There are countless chemical compounds in the world that are vital to human life. One of them is calcium sulfate, which contains a number of calcium elements with the chemical symbol Ca, a sulfur element with the chemical symbol S, and four oxygen elements with the chemical symbol O. It is considered the main cause of water hardness. Calcium sulfate is used to regulate the hardness of water for a variety of processes.
Where to buy calcium sulfate?
If you would like to know any further information about calcium sulfate price or buying this item, our team at Shanghai Chemex will be delighted to help you with that.
Physical and Chemical Properties
In general, calcium sulfate appears as a white, crystalline powder that doesn`t have any detectable odor. This chemical substance is stable at room temperature.
The most important physical and chemical properties of this compound are summarized in the following table:
Chemical formula
CaSO4
Molar mass(g/mol)
136.14(anhydrous)

145.15 (hemihydrate)

172.172  (dihydrate)

Appearance
white solid
odor
odorless
Density(g/cm3)
2.96  (anhydrous)

2.32 (dihydrate)

Melting Point(° C)
1,460  (anhydrous)
Boiling point(° C)
Decomposes
Solubility in water(g/100ml at 25 °C)
0.26 (dihydrate)
Solubility
Insoluble in ethanol
vapor pressure(mm Hg)
0
Color
White with a blue, gray, or reddish tinge, or brick red
Form
Crystals
Other names
Drierite, Anhydrous gypsum
Chemical Structure Depiction
This chemical is soluble in water, but we can't dissolve it in ethanol.
Three forms of calcium sulfate
Calcium sulfate formula is CaSO4. It is composed of calcium cation and sulfate anion, which form an orthorhombic or monoclinic structure. Calcium sulfate has three hydrated forms which are as follows:
Anhydrous
Dehydrated
Hemihydrate
We commonly recognize calcium sulfate dehydrate; however, when it is heated to about 20 °C, it loses three-quarters of its water molecules and becomes calcium sulfate hemihydrate (we also know it as plaster of Paris).
"Calcium sulfate, CaSO4, is a naturally occurring calcium salt. It is commonly known in its dihydrate form, CaSO4∙2H2O, a white or colourless powder called gypsum. As uncalcined gypsum, the sulfate is employed as a soil conditioner. Calcined gypsum is used in making tile, wallboard, lath, and various plasters."
Calcium sulfate solubility in water
The physical properties of the three forms of calcium sulfate are different, but their chemical properties are the same. Although anhydrous form is insoluble in water, both dehydrated and hemihydrate forms can slightly mix with water.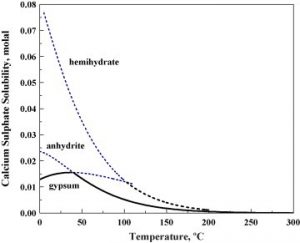 Production methods:
The main sources of this substance are gypsum and the anhydrite form of this compound, which are mined. In addition to natural resources, this material is obtained as a by-product of these reactions:
We have calcium phosphate as a by-product of the phosphoric acid production process from phosphate rock; hydrogen fluoride and refining on calcium sulfate precipitate are also obtained.
Calcium sulfate is also a common precipitate in industrial heat exchangers because its solubility decreases with increasing temperature.
Calcium Sulfate Uses:
Gypsum is used in the production of moulds that contain hard and complex shapes.
This combination is widely used in sculpture and decor.
It is used in the production of pigments.
This compound is used as an additive

agrochemical

due to its sufficient calcium and sulfur for plant growth in arable lands.
Used in cement production and as a filler in paper production.
This compound is also used as a raw material in the synthesis of other calcium compounds and the production of plaster of Paris.
Calcium sulfate supplement can be used to treat constipation.
Calcium Sulfate in Food:
Pure form of this substance is widely used as an additive in the food industry. In fact, it is a natural source of calcium, a pH regulator, and an anticoagulant, found in many foods such as bread, pasta, and animal foods.
Safety Information:
The ingestion of this material may cause nausea, vomiting, irritation, abdominal
pain, and diarrhea.

First-aid measures:
Skin Contact: Immediately flush skin with water.
Inhalation: move the person to the fresh air.
Eye Contact: Rinse eyes with water for at least 15-20 minutes.
Ingestion: Do not induce vomiting. Get medical aid immediately. Call a poison control center.
Packing and Storage:
Store in a cool, dry, well-ventilated area away from incompatible substances. Keep containers tightly closed.
Frequently asked questions
What is calcium sulfate used for?
It is widely used in the food industry, in cement and paper filler, and in soil treatment. This compound is also used in the production of pigments.
Is calcium sulfite a gypsum?
Gypsum is the anhydrous form of calcium sulfate with chemical formula CaSO4.
What is calcium sulfate made from?
The main sources of calcium sulfate are gypsum and the anhydrite form of this compound, which are mined. We can also have calcium phosphate as a by-product of the phosphoric acid production process.
What is CaSO4 2H2O known as?
This form is also known as calcium sulfate dihydrate. It can be dissolved in water, but it is not able to mix with ethanol.
Why is CaSO4 2H2O called plaster of Paris?
Because this compound can be prepared from the gypsum near Paris.