Pyridinium propyl sulfonate is known as an acidic chemical, Pyridinium propyl sulfonate is an acidic salt that is used in applications such as electrical plating.
It is used as an additive in metal plating, such as benzene sulfonyl amide (BBI). This material has good solubility in water and can be used as a suitable additive in the plating bath of various metals such as nickel.
It can increase some useful properties such as electrical conductivity, Pyridinium propyl sulfonate (PPS) has a high purity and is similar to saccharin in some properties.
The application of pyridinium propyl sulfonate (PPS) is very similar to that of benzenesulfonamide (BBI).
In the following, we will learn more about the properties of this acidic compound.
Physical and chemical properties of Pyridinium propyl sulfonate:
This chemical dissolves easily in water, dissolving this stable compound in aqueous solutions can increase the acidity of the solution, is a polishing agent used in plating baths.
| | |
| --- | --- |
| Name | Pyridinium propyl sulfonate (PPS) |
| Molecular weight (g/mol) | 201.25 |
| Density | 1.25 |
| Melting point (℃) | 280 |
| Boiling point (℃) | 111 |
| PH | 2 – 5.5 |
| Solubility | Soluble in water |
Applications and uses of PPS:
pyridinium propyl sulfonate is mostly used in the glycerin dehydration process, PPS is used in this process as broth acid.
In the process of plating metals, baths are generally used chemicals for different purposes. One of the chemicals used for gloss is pyridinium propyl sulfonate.
As mentioned above, this chemical can reduce the acidity of various solutions. In general, several types of additives are used in nickel plating, these additives include moisturizing agents, carriers, brighteners, for the final brightness of the coating, sometimes glossy aids are added to the carriers, making the surface shiny and flat.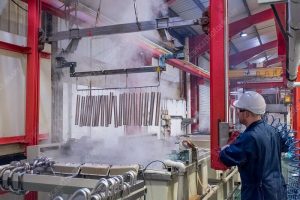 The compounds used include sodium allyl sulfate, 2-butyne 1-sulfamethazine sulfobetaine such as pyridinium propyl sulfonate.
Metals such as zinc, cobalt, and cadmium also act as gloss, but their use is not very common today.
Safety:
In general, pay attention to all safety issues, wear safety glasses, gloves, and special clothing and avoid swallowing or inhaling its vapors.
Transporting and storage:
To store this acidic material, use a place that is away from direct sunlight and moisture does not reach these materials.