Barium sulfate is an inorganic ionic compound with chemical formula BaSO4. It contains barium cation and sulfate anion. This chemical substance is widely used in CT scan and X-ray examinations.
Where to buy barium sulfate?
If you would like to know any further information about barium sulfate price or buying this chemical item, our team at Shanghai Chemex will be glad to help you with that.
Chemical and physical properties:
Barium sulfate appears as white crystalline powder which doesnt have any detectable odor.
BaSO4
Formula
233.38 g/mol
Molar mass
1,600 °C
Boiling point:
1,580 °C
Melting point
Insoluble in alcohol,[1] soluble in concentrated, hot sulfuric acid
Solubility
0.2448 mg/100 mL (20 °C)

0.285 mg/100 mL (30 °C)

Solubility in water
Barium sulfate solubility
This chemical substance is not soluble in water and alcohol, but it can dissolve in concentrated acids.
This compound has the chemical formula BaSO4. In this part, you can see the structure of barium sulfate.

Production:
Usually, most of the barium used commercially in industry is obtained from barite, which is very impure. This material is processed to produce barium sulfide:
BaSO4 + 4 C → BaS + 4 CO
To produce very pure barium sulfate, the sulfide or chloride is treated with sulfuric acid or sulfate salts:
BaS + H2SO4 → BaSO4 + H2S
In the laboratory, they make this substance from the combination of barium ion solutions and sulfate salts.
Barium sulfate uses
This combination has many applications in the industry, which we will examine below.
Drilling fluids:
This compound is used as part of oil well drilling fluid and by increasing the fluid density, it increases the hydrostatic pressure in the well and reduces the probability of blowout.
Radiocontrast agent:
It is used as a radio contrast agent for X-ray imaging and other procedures. This substance is usually prescribed orally in the form of fine powder in a thick solution. This substance is easily removed from the body and does not cause any problems. Due to the relatively high atomic number of barium, its compounds absorb X-rays more strongly.
Plastic filler:
This material use as a filler in polypropylene and polystyrene plastics at a ratio of 70%. Color indicators use for soil pH and other soil quality tests, although small particles such as clay can cloud the test mixture and make it difficult to see the color. When barium sulfate add to this test mixture, it binds to these particles and makes them heavier, leaving a clearer solution.
Other uses:
This material also use in colorimetry, brake pads, powder coatings, casting and radiometric measurements.
Side effects of barium sulfate for CT scan
This substance, like any other chemical substance, can have side effects and requires consulting a doctor. Rare side effects of this substance as a medicine include constipation, bloating, nausea, heartache and shortness of breath. Also, anxiety, blurred vision, confusion, cough, bruises, hives, skin redness, sweating and unusual fatigue can be other side effects of this substance.
Barium sulfate
health hazards: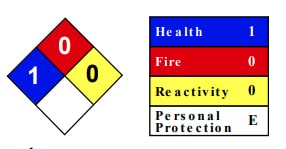 this chemical is a relatively non-hazardous chemical. Any hazards are due primarily to the physical form (particles). Repeated or prolonged contact can irritate the skin and eyes. Breathing this salt particles can irritate the nose and throat and restrict breathing (shortness of breath).
Frequently asked questions
Why is barium sulfate safe for X-rays?
Yes, the reason is that this inorganic compound cannot dissolve in water, so it is not toxic.
Does barium sulfate affect the kidneys?
If you drink a high amount of this chemical compound, it can be harmful for kidney health.
What is barium sulphate used for?
This compound is used as part of oil well drilling fluid and by increasing the fluid density. It is also used as a radio contrast agent for X-ray imaging and other procedures.
Can you drink water after drinking barium sulfate?
You should not drink anything three hours before the examination.