Barium sulfate is a metal sulfate with formula BaO4S. this chemical appears as white or yellowish odorless powder or small crystals and Virtually insoluble in water at room temperature, it is mostly used as a component in oil well drilling fluid it occurs naturally as the mineral barite. It has a role as a radioopaque medium. It is a barium salt, a metal sulfate and an inorganic barium salt.
properties:
| | |
| --- | --- |
| Chemical formula | BaSO4 |
| Molar mass | 233.39 g/mol |
| Appearance | white crystalline |
| Density | 4.49 g/cm3 |
| Melting point | 1,580 °C |
| boiling point | 1,600 °C |
| Solubility | insoluble in alcohol, soluble in concentrated, hot sulfuric acid |
Production:
Almost all of the barium consumed commercially is obtained from barite, which is often highly impure. Barite is processed by thermo-chemical sulfate reduction (TSR), also known as carbothermal reduction (heating with coke) to give barium sulfide:
BaSO4 + 4 C → BaS + 4 CO
In contrast to this chemical, barium sulfide is soluble in water and readily converted to the oxide, carbonate, and halides. To produce highly pure barium sulfate, the sulfide or chloride is treated with sulfuric acid or sulfate salts:
BaS + H2SO4 → BaSO4 + H2S
Barium sulfate produced in this way is often called blanc fixe, which is French for "permanent white". Blanc fixe is the form of barium encountered in consumer products, such as paints.
In the laboratory barium sulfate is generated by combining solutions of barium ions and sulfate salts. Because this salt is the least toxic salt of barium due to its insolubility, wastes containing barium salts are sometimes treated with sodium sulfate to immobilize (detoxify) the barium. Barium sulfate is one of the most insoluble salts of sulfate. Its low solubility is exploited in qualitative inorganic analysis as a test for Ba2+ ions, as well as for sulfate.
Untreated raw materials such as natural baryte formed under hydrothermal conditions may contain many impurities, a.o., quartz, or even amorphous silica.
Barium sulfate usages:
This chemical substance has wide and diverse applications in industries, which include:
Drilling fluids:
About 80% of the world's barium sulfate production, mostly purified mineral, is consumed as a component of oil well drilling fluid. It increases the density of the fluid, increasing the hydrostatic pressure in the well and reducing the chance of a blowout.
other uses:
Pigment

Heat-reflecting paint

Paper brightener

Plastics filler

Catalyst support

Copper industry

Radiocontrast agent

Drug Indication

Food Additives and Ingredients
Barium sulfate
Health Hazards: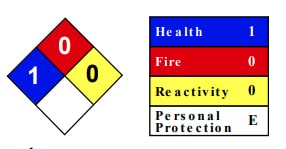 this chemical is a relatively non-hazardous chemical. Any hazards are due primarily to the physical form (particles). Repeated or prolonged contact can irritate the skin and eyes. Breathing this salt particles can irritate the nose and throat and restrict breathing (shortness of breath).