Dimethylformamide, also known as DMF for short, is one of the most important chemical solvents that is widely used in various industries such as paint and resin, pharmaceutical, and chemical industries. Shanghai Chemex is one of the most reputable suppliers of this chemical in the world.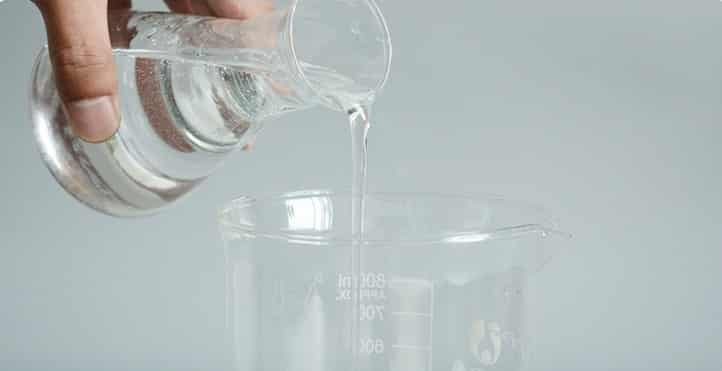 Physical and Chemical Properties:
Dimethylformamide is found as a clear liquid without any color. This product is odorless and is available to consumers with a purity of 99%. In some cases, this chemical compound has a foul odor, which is due to the presence of some impurities in the structure of this chemical compound. This chemical product has excellent solubility in water as well as most organic liquids. In fact, after dissolving dimethylformamide, a uniform solution is produced. This is why DMF is considered the ideal solvent for many chemical reactions; The most important physical and chemical properties of this compound can be summarized in the following table:
| | |
| --- | --- |
| Chemical formula | C3H7NO |
| Molecular Weight (g/mol) | 73.095  |
| Appearance | Colorless liquid |
| Density(g/mL) | 0.948 |
| Odor | fishy, ammoniacal |
| Melting point (° C) | −60.4  |
| Boiling point (° C) | 153 |
| Viscosity (mPa s at 20 °C) | 0.92 |
| PH | 6.0-8.5 |
| Solubility | Readily soluble in water, ether |
| Chemical Structure Depiction | |
Dimethylformamide Production Process:
There are several methods for producing dimethylformamide:
Distillation of a mixture of dimethylamine hydrochloride and potassium formate
Combination of methyl formate and dimethylamine
Combination of dimethylamine with carbon monoxide
Dimethylformamide Uses:
Pharmacy: DMF is very popular in medicine due to its good solubility and high crystallization ability. Sulfadiazine, corticosteroids, and vitamin B6 are some of the drugs used in the manufacture of this clear solvent.
Agriculture: To produce pesticides.
Industry: It is used as an industrial solvent and in the manufacture of synthetic fibers, plastics, and paints.
Textile: The solvent is widely used in the textile industry, acrylic spinning, and dyeing, as well as in the production of fibers and surface coatings. like Trisodium phosphate
Biological Uses: Among the uses of this product is the production of hydrophobic aqueous solutions to dissolve MTT crystals and to evaluate the viability of the tested cells.
Chemical Industry: This organic solvent is also used as a reagent, catalyst, and stabilizer.
Other Uses include:
In the adhesive and insulation industries.
In the production of solvent paints and solvent varnishes.
As a solvent in degreasers and stain removers.
The Global Market for the Sale and Purchase of Dimethylformamide:
As the largest producer and seller of DMF, China, with its largest manufacturing plants, accounts for about 44% of the global production capacity of this solvent. In addition, China is the largest consumer of the solvent, consuming about 77% of the DMF produced, followed by the United States, Europe, Japan, and other countries. Reports in 2018 show that the production capacity of this material has been sufficient and meets the market purchase needs. It is estimated that by 2022, the consumption of this solvent will increase by 3%.
Buy Dimethylformamide:
For information on how to sell this product and place an order, you can contact our partners in the Shanghai Chemex sales department.
Safety Information:
This material is highly flammable, so it is necessary to avoid placing it next to a flame or hot place. This compound is harmful to the environment, so it should be avoided in the environment. Inhalation of dimethylformamide can cause dizziness, nausea, headache, skin problems, etc. Swallowing it can also damage the liver and cause damage to the fetus in pregnant women.

First-aid measures:
Eye Contact: In case of contact with the eyes, immediately flush the eyes with plenty of water.
Skin Contact: Remove this material from the skin with plenty of soap and water.
Inhalation: Remove to fresh air immediately. If not breathing, give artificial respiration.
Ingestion: Do not induce vomiting. Get medical aid immediately. Call a poison control center.
Packing and Storage:
In general, it is recommended to store this product in a tightly closed container in a dry and cool place, well ventilated and away from incompatible agents such as acids, alkali metals, and nitrates.