Isopropyl alcohol is an organic compound also known as isopropanol and 2 propanols, which is used in the manufacture of a wide range of various industrial and household chemicals and as the main ingredient in many chemical products such as disinfectants, and detergents are used.
Physical and Chemical Properties:
Isopropyl alcohol is one of the isomers of propyl alcohol with antibacterial properties. this compound is a colorless, volatile liquid that smells between acetone and ethanol and has a bitter taste. IPA is soluble in water, ethanol, ether, and chloroform. It dissolves ethylcellulose, polyvinyl butyrate, many oils, alkaloids, and natural resins. Unlike ethanol or methanol, it does not mix with saline solutions and can be separated from aqueous solutions by adding a salt such as sodium chloride; The most important physical and chemical properties of this compound can be summarized in the following table:
| | |
| --- | --- |
| Chemical formula | C3H8O |
|  Molar mass (g/mol) | 60.096 |
| Appearance | Colorless liquid |
| odor | Pungent alcoholic odor |
| Taste | Slightly bitter taste |
| Density (g/cm3) | 0.786 |
| Melting Point (° C) | −89 |
| Boiling point (° C) | 82.6 |
| Solubility in water | Miscible with water |
| Solubility | Miscible with benzene, chloroform, ethanol, ether, glycerin; soluble in acetone |
| Vapor pressure (mmHg 25°C) | 45.4 |
| Flash Point (°F) | 53 |
| Synonyms | Isopropanol, 2-Propanol, Propan-2-ol, 2-Hydroxypropane, i-Propanol |
| Chemical Structure Depiction | |
Commercial Methods of Production of IPA:
Isopropyl alcohol (isopropanol) is prepared by various methods. But in trade, it is produced in two ways, the raw material of which is propylene:
The first method:
In this method, sulfuric acid is used to absorb propylene and then hydrolyze it to isopropyl alcohol. This method has many disadvantages, including high consumption of sulfuric acid, hardware corrosion, and high energy consumption, which limits its production.
The second method:
Direct hydration of propylene in the presence of an acid heterogeneous catalyst is a new technology that does not have the disadvantages of indirect hydration. This method uses active catalysts that are compatible with environmental protection. One of the advantages of this high-efficiency method is low energy consumption. Today, this method is one of the methods for developing and producing hydrated propylene.
Differences Between Isopropyl Alcohol and Ethanol:
Ethanol is simple alcohol with the chemical formula C2H6O and a colorless, flammable liquid that is soluble in water. IPA is also a colorless, flammable liquid but has a slightly different chemical composition than ethanol with the formula C3H8O.
Isopropyl alcohol is mixed with water for use as antiseptic alcohol and is often found in post-shave lotions, hand lotions, and other cosmetics. Ethanol can also replace these products, but IPA is preferred due to its higher concentration. However, the initial use of ethanol goes beyond its antiseptic properties and is used as an intoxicating substance in alcoholic beverages such as beer, wine, and distilled syrups. But it should be noted that industrial ethanol is not for consumption.
Isopropyl Alcohol Uses:
Most of the production volume of isopropyl alcohol is used for the production of agrochemicals, pharmaceuticals, process catalysts, and solvents. Isopropanol is much easier to use in hydrogenation, oxidation, esterification, ether, amine, and halogenation reactions than the first type of alcohol, such as normal propyl alcohol or ethyl alcohol. Among the most important applications of isopropyl alcohol are the following:
Medical:
Isopropanol alcohol is often used in medicine in antiseptic pads. These pads are usually made of cotton or gauze. They are moistened with a solution of 60 to 70% alcohol diluted in water. These pads are used by medical staff to perform tasks such as cleaning small tools, cleaning surfaces, and cleaning the patient's skin before injection In addition, it is used as rubbing alcohol before and during surgery to prevent infection.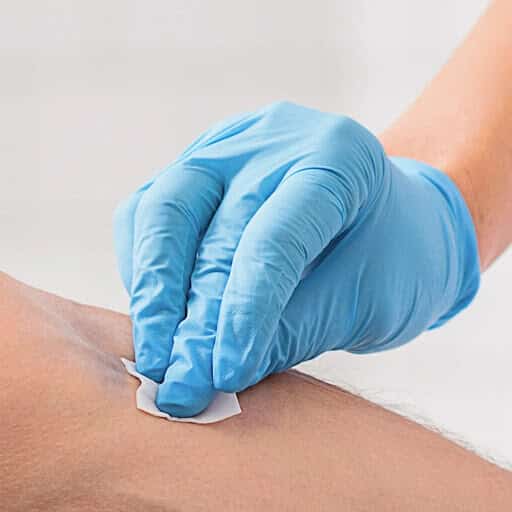 Solvent:
Isopropyl alcohol with hydrocarbon-like properties is a low-cost organic solvent. Due to its low toxicity, it has attracted special attention. For this reason, it is used as a solvent in many industrial applications. In addition, IPA is used as a solvent in cosmetics such as perfumes, shampoos, skin cleansers, nail polishes, cosmetic cleansers, body oils, fragrances, and skin lotions.
In Cars:
Application in cars is one of the most important uses of this alcohol. It is used as a fuel additive in cars, as an antifreeze for car windows, in the manufacture of car wash liquids, and to remove the effects of brake fluid from hydraulic systems.
Laboratories (concentration 70 to 90%):
Isopropyl alcohol is used in laboratories as a disinfectant to clean surfaces and equipment, as a diluent for test specimens, and in DNA extraction. It is also used as a hand sanitizer in laboratories and hospitals.
Industry:
Isopropyl alcohol is used in the printing industry as a solvent and for cleaning delicate equipment in the industry. In the manufacture of most computer components, the use of isopropyl alcohol is essential as a solvent, and in the manufacture of paint, it is also used as a paint stripper.

Safety Information:
Isopropyl alcohol is not oral. This substance is metabolized differently in the human body than in other oral alcohols. As a result, drinking even a small amount of it can be deadly. Those who survive after drinking isopropanol develop permanent blindness. This alcohol is flammable, so safety precautions should be taken when using it. This material also has a corrosion effect and causes corrosion of plastics, rubbers, and other coatings.
Packing and Storage:
Keep the container tightly closed in a cool, dry, and well-ventilated place. Keep away from heat, sparks, and flame.