Butyl glycol is an organic solvent that can also be referred to by other names, such as mono-butyl ether glycol. Butyl glycol is a neutral liquid from the glycol ether family.
This chemical participates as an initiator in many chemical reactions and is used as a solvent in the ink, coatings industry, and in the food industry as a widely used additive.
At high temperatures this organic chemical can ignite, the appearance of this chemical compound is a clear liquid that has a mild odor, butyl glycol is chemically absorbent and it's a good solvent for resins and kinds of paraffin. This solvent is toxic.
In the following, we will get more acquainted with the physical and chemical properties and applications of this material.
Physical and chemical properties of butyl glycol:
This solvent has a lower density than water and is very similar in chemical properties to ethylene glycol. Chemically, this solvent's structure has been converted to a surfactant and can dissolve in water as well as in water-insoluble compounds. This chemical is mostly used in the paint and coating industries.
The chemical structure of butyl glycol is as follows:
The most important physical and chemical properties of this compound can be summarized in the following table:
| | |
| --- | --- |
| Name | Butyl glycol |
| Molecular weight (g/mol) | 118.17 |
| Density (kg/m³) | 900 |
| Viscosity (CP) | 2.9 |
| Melting point (°C) | -77 |
| Boiling point (°C) | 171 |
| PH | 7 |
| Solubility in water | Miscible (in most organic solvents) |
Butyl glycol evaporation rate:
After solubility, the most important criterion for selecting a suitable solvent is its evaporation rate, the evaporation rate is an important parameter in solvents that are used in the ink and printing industry and this affects the functional effect of the solvent.
The evaporation rate for butyl glycol is 0.079.
Production process:
The production of this substance can usually be done by two methods, in the first method, this chemical is produced by butanol and ethylene oxide reaction, in the other method butyl glycol can also be produced by the reaction of butanol and chloroethane.
In the industrial method, this solvent can be produced by the reaction of ethylene glycol and butyraldehyde in a reactor with a palladium catalyst.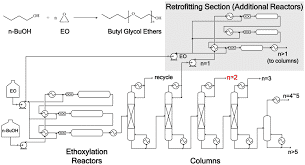 In recent years, the production of this substance in the world has increased so much that it is estimated that the annual production of this solvent is about 200 to 500 thousand tons.
Application and uses of EG:
Butyl glycol has two ether and one alcohol in its structure, this unique structure makes butyl glycol very soluble in aqueous or even non-aqueous solutions.
This solvent has good properties that have greatly expanded its applications. Here are the most important applications of this colorless liquid:
The chemical structure of butyl glycol makes it a degreaser and is widely used in the production of detergents. This material is precisely used in the production of various varnishes, soaps, waterless cleaning solutions.
in the oil and gas industry and deep oil wells, this solvent can be used to connect water to oil. This organic solvent is a type of surfactant that is used in drilling operations in oil wells.
The bulk of the production of this chemical compound is used in the role of solvent, in the paint industry, the use of butyl glycol helps to increase the quality of the dyes produced. Creating a lubricating effect and reducing the drying time of the paint is one of the advantages of using this solvent in the paint industry.
Butyl glycol is used as a raw material to produce acetate, which is an excellent solvent. It is also used as a raw material for the production of plasticizers with phthalic anhydride reactions.
This organic compound is used in the food industry as a disinfectant to clean products and used in industrial and commercial surface cleaners. this solvent is also used in the oil industry due to its surfactant properties.
Safety: Is butyl glycol hazardous?
Butyl glycol is relatively toxic and when working it should take into account all safety factors such as wearing goggles, special clothing, and masks, inhaling this substance can cause areas in the human respiratory tract.
Direct contact of this organic substance with the skin can have adverse effects on the human body, this chemical is usually decomposed within a few days in the presence of air and reaction with oxygen radicals.
This substance is not considered an important environmental pollutant and does not have biological accumulation. The most important method of excretion of butyl glycol is burning.
Transporting and storage:
use a cool and dry place to store this chemical away from heat and direct sunlight.