Polyvinyl alcohol is a synthetic polymer sometimes known as PVA, PVOH, or PVAL. This white powder is produced from the polymerization of vinyl acetate monomers and plays various roles in commercial and industrial industries such as paper, textile, and printing. This compound has the highest production volume among water-soluble synthetic polymers. Shanghai Chemex is one of the most reputable suppliers of this chemical in the world.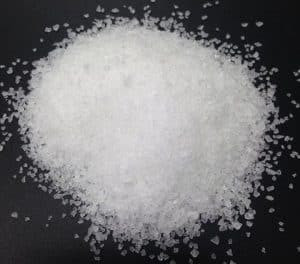 Physical and Chemical Properties:
Polyvinyl alcohol with the chemical formula CH2CHOH is available as granules or powder in white cream-colored. Its aqueous solutions are pure, acidic to neutral in terms of pH. This compound is non-toxic, non-flammable, odorless, and resistant to fats, oils, and solvents; In the table below some of the chemical and physical properties of this product are mentioned:
| | |
| --- | --- |
| Chemical formula | CH2CHOH |
| Molecular Weight (g/mol) | 44.05  |
| Appearance | solid |
| odor | Odorless |
| taste | Tasteless |
| Density (g/cm3 at 25 °C) | 1.19–1.31  |
| pH | 5,0 to 6,5  |
| Melting Point (° C) | 200   |
| Boiling point (°F) | 644 |
| Solubility | Soluble in water; sparingly soluble in ethanol |
| Color | white or cream |
| Form | granules or powder |
| Chemical Structure Depiction | |
Polyvinyl Alcohol  Production Process:
The main raw material in the production of this product is vinyl acetate monomer. PVA is obtained by polymerization of vinyl acetate monomer and then by partial hydrolysis. In this hydrolysis, the ester group in PVAc is replaced by the hydroxyl group. The process is completed by the presence of sodium hydroxide as a catalyst.
 PVA Uses:
Polyvinyl alcohol is used in the paper industry to make the paper as a compactor.
Used in the textile industry to produce fabrics.
One of the main uses of this material is in food packaging.
Used as emulsion and stabilizer in PVC or PVAc adhesive formulations and all types of coatings.like THF
This compound is used as an aid in the polymerization of the suspension.
Used as a protective colloid to disperse polyvinyl acetate.
Production of artificial tears and eye drops for lubrication
Production of gloves resistant to chemical raw materials.
Used to produce vinyl fiber. No oil is needed to produce these fibers.
Used in photographic film.
Today, PVA-based polymers are widely used in the production of additives.
In medicine, it is used as an embolic agent in uterine fibroids (UFE).
Polyvinyl alcohol is used as an emulsifier in the cosmetics industry.
It is also used in agricultural industries to increase soil adhesion and prevent soil erosion and the production of chemical fertilizers, pesticides, and herbicides.
What is Polyvinyl Alcohol Eye Drops used For?
One of PVA uses is in the form of eye drops, which are also called artificial tears. This substance is used to treat burning and dry eyes; Especially if the dryness is due to reduced tear production in the eye. This drop lubricates the surface of the eye and makes it easier to open and close the eye. This drop can be obtained both with a doctor's prescription and without a prescription from pharmacies.
What is the use of PVA Adhesive?
Among the two common adhesives available called polyvinyl acetate and PVA, you should note that the type of polyvinyl acetate turns yellow after a while and loses its adhesive properties.PVA adhesives are water-soluble and do not turn yellow over time and are used for adhesives paper and other items.
Among the properties of PVA, the following can be mentioned:
It does not turn yellow over time;
Remains flexible;
It will not affect the pH balance of products;
It dries easily and with high transparency;
Does not produce harmful fumes.
Buy Polyvinyl Alcohol:
Polyvinyl alcohol is used as a powder and sometimes as a solution in water. You can contact our experts in Shanghai Chemex to buy genuine and quality polyvinyl alcohol at the best price.
Safety Information:
Because the composition of polyvinyl alcohol has a wider application in many industries, the issue of its toxicity and dangerousness is very important.
If this polymer enters the environment, it decomposes gradually and slowly.
This compound is flammable. Dust from this polymer scattered in space may irritate the eyes and respiratory system.
People who deal with this substance need to use special glasses, masks, and work clothes.
First-aid measures:
Skin Contact: Immediately flush skin with water.
Inhalation: move the person to the fresh air.
Eye Contact: Rinse eyes with water for at least 15-20 minutes.
Ingestion: Do not induce vomiting. Get medical aid immediately. Call a poison control center.
Packing and Storage:
Store in a cool, dry place. Store in a tightly-closed container.