Propylene glycol, known as mono propylene glycol, is an organic compound that belongs to the glycol family. This chemical product is one of the most widely used industrial materials that cover a wide range of large and small industries. PG is used both industrially in high volume and on a laboratory scale in low volume. Its applications can be mentioned in the pharmaceutical, cosmetic, and food industries and the production of some industrial materials. This substance is in the category of industrial chemicals of Shanghai Chemex.

Physical and Chemical Properties:
Propylene glycol has the chemical formula C3H8O2. This compound is a colorless, viscous, odorless liquid that is very moist in all proportions. It dissolves in water, alcohols, esters, ketones, and amines and has limited mixing with halogens; The most important physical and chemical properties of This organic compound can be summarized in the table below:
| | |
| --- | --- |
| Chemical formula | C3H8O2 |
| Molecular Weight(g/mol) | 76.095 |
| Appearance | colorless liquid |
| odor | Odorless |
| Density (g/cm3) | 1.036 |
| Melting point (° C) | −59 |
| Boiling point (° C) | 188.2 |
| Other names | 1,2-propanediol, Methylethyl glycol, propane-1,2-diol |
| Chemical Structure Depiction | |
Production of PG:
Propylene glycol is produced industrially from propylene oxide. This process is possible in two ways. In the process, without a catalyst, the reaction is performed at a high temperature, and in the process, with a catalyst, the reaction is performed in the presence of an ion-exchange resin or a small amount of sulfuric acid or a base. Propylene glycol is also obtained from glycerin, but this method is omitted due to the noticeable odor and taste of the final product.
Propylene Glycol Uses:
Veterinary Medicine:
In veterinary medicine, Propylene glycol is used to treat ketosis (high levels of ketones in the blood, milk, or urine of animals). Cows lack energy after calving, which causes low milk supply and ketosis. To treat this disease, PG is used, which increases the amount of milk, reduces the fat content of milk, and its protein percentage remains unchanged.
Pharmacy:
The above product is used as a stabilizer and solvent in a wide range of drugs. Mixing this substance with water enables it to be used as a solvent in medicinal formulations.
Antifreeze Production:
Propylene glycol can be substituted for ethylene glycol in modern cooling systems and antifreeze applications. This product in combination with water creates a solution with a low freezing point, so it is used in the manufacture of antifreeze. Many types of antifreeze used in car radiators contain this substance along with water, anti-corrosion agents, and some other additives. It is also used to prevent freezing in aircraft. like Polypropylene glycol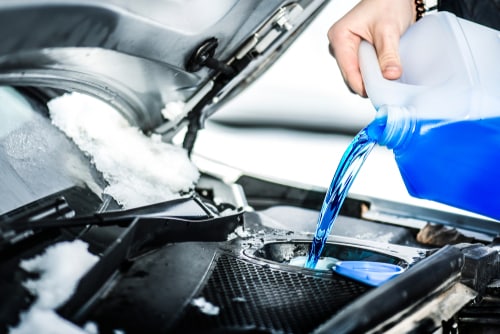 What is the reason for replacing PG with ethylene glycol? This change is not due to the fact that PG is better than ethylene glycol, it is only due to its lower toxicity. Ethylene glycol is highly toxic and, when ingested, produces calcium oxalate crystals. These crystals form in the heart, kidneys, and lungs, which can cause permanent damage to the body.
Cosmetics:
This substance increases hydration by absorbing water from the air and trapping water molecules in skin and hair products. Not only does this increase the skin's hydration, but it also stops the growth of bacteria and gives cosmetics a longer life. Many plant-derived grades are very useful for cosmetic applications. Propylene glycol is widely used in shampoos and sunscreens.
Food:
Propylene glycol is used as an additive to help process food and improve texture, taste, and shelf life.
Buy Propylene glycol:
Propylene glycol is one of the functional compounds in the industry, which has a large sales market. The price of this chemical product varies according to the quality of the product, the weight of the purchased product, the type of grade used, and the type of packaging. Also, the price of all chemical products, such as the price of propylene glycol, undergoes many changes daily. For this reason, to know the latest price of PG, its storage conditions, and how to use the product, you can contact our experts in Shanghai Chemex and register your purchase.
Side Effects:
This product has corrosive properties and in case of contact with skin or eyes, the area should be washed immediately with cold water. Inhalation of odorless gases in this liquid is very dangerous and leads to asthma and shortness of breath. The use of care equipment is mandatory when working and transporting this chemical. Gloves, masks, and goggles are required when working with this material.
Packing and Storage:
The lids of containers and barrels for storing this chemical should be completely closed and stored in a cool, dry place, away from flammable agents. This chemical is very durable at low temperatures.